SUGAR FREE CHEESECAKE KETO MOUSSE FLUFF
A light and airy sugar free cheesecake keto mousse recipe that's quick and easy to prepare. This low carb dessert is great with chocolate or fruit sauce.This is a super yummy dessert that whips up quickly. If you like the taste of cheesecake, you are going to love the flavor of this mousse.
And the best part is that it's one of the quickest low carb desserts you can make. Plus it only uses only six ingredients that you likely already have.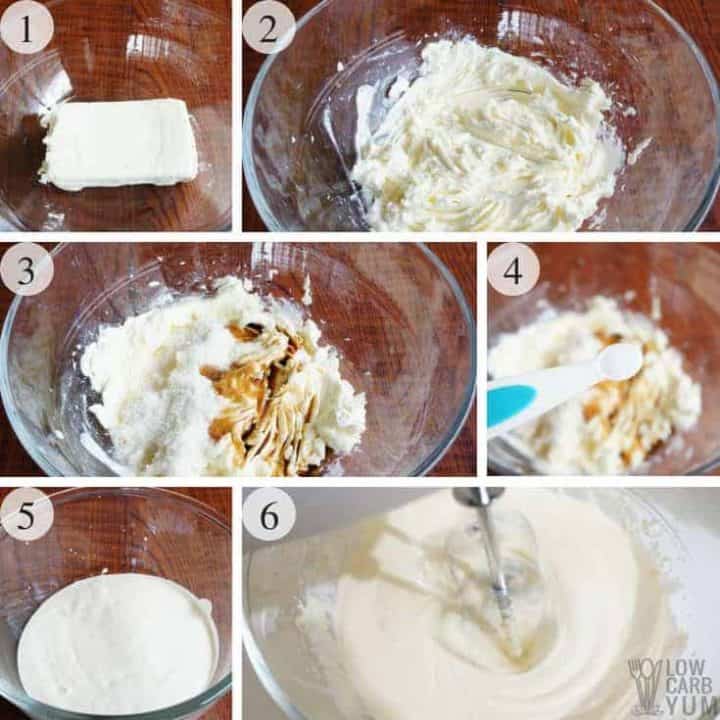 HOW TO MAKE AN EASY KETO CHEESECAKE MOUSSE
For this recipe, you start by putting a block of cream cheese in a mixing bowl. (photo 1) For this sugar free cheesecake keto mousse, I use it right out of the refrigerator.
To soften the cheese, I put it in the microwave for about 30 seconds and then stir it up with a fork. (photo 2) It's important to start with softened cream cheese, otherwise you could end up with lumps.
At this point, it's time to add sweetener and flavor extracts. (photos 3 & 4) I love using a mix of erythritol and stevia along with stevia extract powder. But feel free to use the sweetener(s) of your choice.
You can always taste test to get the amount right of sweetener. The recipe needs about 1/2 to 3/4 of sugar replacement depending on how sweet you like it.
For the extracts, I use vanilla and lemon. However, feel free to experiment with different ones to change up the taste.
The sweetened cream cheese mix is excellent by itself before adding the whipped cream. However, to get the airy texture, you'll want to incorporated the cream by folding it in first (photo 5) which prevents too much deflation.  Then the entire mixture is whipped together (photo 6) with an electric mixer.
SERVING THE KETO CHEESECAKE FLUFF
You can pipe or spoon the mousse into individual serving dishes right away or do it after the mousse has chilled in the refrigerator. I prefer chilling first and then putting into serving dishes.
Using a pastry bag to pipe the mousse into single servings gives a pretty look, but scooping out with a spoon is fine as well.
I see real possibilities with this recipe. You could dress this one up with some sweet cinnamon almond meal sprinkles to mimic graham cracker crumbs and add some drizzled strawberry sauce for a strawberry cheesecake parfait.
Maybe you want to put some chocolate shavings on top of the sugar free cheesecake keto mousse. Or maybe you prefer a low carb fruit sauce.
For a quick topping, I sprinkled sugar free chocolate chips on each serving. Another option would be to double the recipe and use it as a light and airy no-bake cheesecake filling.
You can even blend it with another low carb mousse for an easy layered dessert!
Sugar Free Cheesecake Keto Mousse
Prep Time 5 minsTotal Time 5 mins Servings   6 servings Calories    269kcal
Ingredients
8 ounces cream cheese softened
1/3 cup powdered erythritol or less to taste
1/8 teaspoon stevia concentrated powder optional
1 1/2 teaspoons vanilla extract
1/4 teaspoon lemon extract
1 cup heavy whipping cream or regular heavy cream
Instructions

Beat cream cheese until smooth.
Mix in erythritol, stevia, vanilla, and lemon extract until well combined.
In separate bowl, beat heavy cream with mixer until stiff peaks form.
Fold half of the whipped cream into cream cheese mixture until well incorporated. Fold in the other half of the whipped cream.
Beat with an electric mixer on high until light and fluffy.

Refrigerate for at least two hours. Pipe or spoon into individual serving dishes. Top with fresh fruit or sugar-free chocolate, if desired.NotesThe recipe can be doubled to use as a pie filling.If replacing powdered erythritol with a regular powdered sweetener, omit the stevia or cut back on the sweeteners.It's not essential to fold the whipped cream into the cream cheese mixture. It can be added and then whipped in with an electric mixture.
Nutrition
Serving: 0.5cup | Calories: 269kcal | Carbohydrates: 2g | Protein: 3g | Fat: 27g | Saturated Fat: 16g | Cholesterol: 95mg | Sodium: 136mg | Potassium: 81mg | Sugar: 1g | Vitamin A: 1090IU | Vitamin C: 0.2mg | Calcium: 63mg | Iron: 0.1mg
Additional Info
Net Carbs: 2 g | % Carbs: 3 % | % Protein: 4.6 % | % Fat: 92.4 % |
If anyone wants more Delicious Keto and Low Carb Recipe so Join My New Group Here you can get best and new Recipes>>>Keto Club Recipes